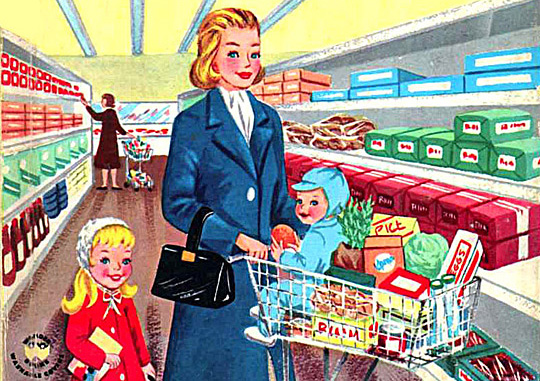 We know groceries can be expensive and we are all trying to save money whenever we can — at least most of us moms are.  I recently came across a few apps to help with making at least a little of your money back when you shop.
One of the apps is called Ibotta.  You sign up for free, then you unlock deals by reading a short blurb or watching a quick video.  After you go shopping you just scan the bar code of the items you bought that were unlocked in the app, and scan the bar code on store receipt.  That's it, they confirm the submission and give you money.
 Another one is Checkout 51.  Every Thursday morning Checkout 51 updates with a new list of offers.  All you have to do is pick the ones you like, purchase them at any store, and upload a photo of your receipt through their app or website. When your account reaches $20, they send you a check.
Shopkick is an app that rewards you with free gift cards in exchange for checking in a various stores (not just supermarkets) and by scanning the barcode of specified items.  You open the app before you enter the store and it will give you points just for walking in.  Then it will tell you what items it wants you to scan in that store, for which it will reward you with points that add up to gift cards.  You can do as little or as much scanning as you wish.
 If you shop at WalMart you can use their Savings Catcher app.  Scan your receipt with the app on your phone and they compare the prices with surrounding stores.  If any store has it for cheaper WalMart pays you the difference.
Target has the Cartwheel app.  This one you have to look through before shopping to pick the deals you want.  You go shopping and have the checkout person scan the bar code in the app for the purchases you are making.
Some of these  may seem like a lot of work, but they really can make it worth the tiny bit of effort.  I've saved/earned back hundreds of dollars by using the apps.  It adds up.  Let me know how you like using these services in the comments below, or if you any other good ideas please let us know that as well.
Referenced links: