"Every leaf speaks bliss to me,
fluttering from the autumn tree." –Emily Bronte
Labor Day has passed, the kids are back in school, and autumn's cool breath brings its smells of fallen leaves and late harvest.  My instincts call me to make the home "cozy" again; comforting, warm, and inviting.  The smells of baked apples with cinnamon, browning butter, baked squashes and roasted fowl.  These aromas lend as much to the season as the changing leaves and weather do, and since my days are not spent exclusively in the kitchen, I lean heavily on Yankee Candle.
To me it simply doesn't seem appropriate to light a candle in the spring and summer; nature's fragrances waft in on their own when the windows are open, but once the chill of fall begins to set in I pack the kids into the car and head down to the local Yankee Candle store.  My kids love to walk the store smelling the delicious flavors and collecting the small wax melts ("tarts") that they want to bring home, their little noses soon too overwhelmed and saturated to tell the scents apart.  A trick I've learned is to smell the inside lid of the candle jars rather than the candle wax itself, as the lid only retains a subtle waft which won't smother your nose.  They provide jars of whole coffee beans to cleanse your sniffer between samples, but the kids don't care so much.  Much of the fun is in seeing if the names and photos on the fragrances match what your minds eye thinks the title ought to smell like.
Autumn in the Park (picture of a park bench under a row of golden leafed trees); the scent of fresh peeled apple and the crispness of fallen leaves to capture an afternoon on a gorgeous autumn walk.
Harvest (picture of decorative dried corn); cinnamon, cloves, ripe autumn apples, and a hint of pumpkin to make the home cozy and inviting.
Apple Pumpkin (picture of assorted apples and pumpkins); slightly sweet, earthy notes of pumpkin and clove, with a little bit of spiced apple, bring the season home to welcome family and friends.
Just a few examples.  Its fun to smell them all and be transported in your mind to another time — of joy, bounty, hearth and home.  Not all the scents hit the mark for me, some annoy me or just bother my nose, but most of their fall and winter selections are delightful.
Aside from the great scente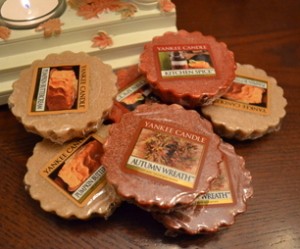 d jars, Yankee Candle also makes wax melts ("tarts")  in all the same scents.  Their themed seasonal wax warmers are often gorgeous works of kitschy art, with a dish hanging from a chain that holds the wax when a lit tealight is placed underneath it.  Every year they have a new themed collection for fall, Halloween, Thanksgiving, and Christmas.  In my home we burn the wax warmers almost exclusively, rather than the candle jars, mostly because the delightful decorative wax warmers are just so pretty.  I already have quite a few at home, but the new annual offerings often spurs me to add to my collection.  The good ones often sell out quickly, but will sometimes end up on eBay if the stores are out of stock.
The kids dump their h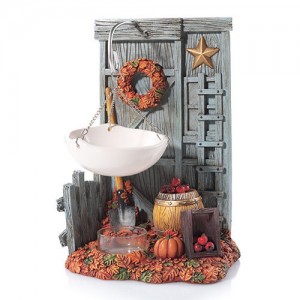 andfuls of wax melts into the basket, I add a few of this years' new fragrances that I want to try.  You can't fully know how the scents fill out your home until its burning on your mantle.  I pine to buy the new "Fall Barn" hanging wax warmer, but I pledge to wait and bring my husband back to get his opinion.  And when winter comes we'll do this all again.
Gidget Fraser is a guest writer for Mommy Perfect.