Ever wondered which apples are best for baking, cooking, or eating fresh?  Here is a list of the 10 most common varieties available in North America almost year-round and how best to use them.  Bookmark this for future reference.

Granny Smith
Best for: Baking.
Granny Smith apples are often the go-to apples for baking because they hold their shape well when cooked, which is ideal for pie. These apples have a tart flavor, so extra sugar may be needed if you're making a dessert.  Their skin is tough, which is not always desirable when eating fresh.  This is the suggested apple for my quick and easy pumpkin soup.

Pink Lady
Best for: Eating fresh.
The Pink Lady variety was created by crossing an Australian apple called Lady Williams with a Golden Delicious. These have a distinctive pink color mixed with a green background. They have a sweet and slightly tart flavor with a crunchy texture.

Fuji
Best for: Eating fresh.
Fujis tend to be sweeter and crisper than many other available apple varieties, making them popular for eating fresh. They can also last up to a year in the fridge.

Red Delicious
Best for: Eating fresh.
This is the universally ubiquitous apple, Red Delicious apples have a juicy and mild flavor. They're not the most exciting, but they are very common and well liked.

Corland
Best for: Eating fresh, baking and stewing.
A descendant of the McIntosh apple, Cortlands are juicy with a tart flavor. These versatile apples are great for whatever your use may be.

Braeburn
Best for: Eating fresh.
Braeburns are sweet, tart, juicy and crispy.  A great snacking apple, sliced and cored, with some caramel or peanut butter.

Honey Crisp
Best for: Eating fresh and stewing.
These are frankly amazing.  Honeycrisps have a bright, sweet flavor and a crunchy, snappy texture.  This is my personal favorite apple for eating fresh.  Unfortunately they don't hold their shape well for baking, but stewed apple sauce is perfect.

Golden Delicious
Best for: Eating fresh, baking and stewing.
Golden Delicious apples are light gold or yellow in color. They have a sweet flavor, firm flesh and thin skin. Use them in any recipe where you cook the apples.

Gala
Best for: Baking.
Gala apples tend to be small with red and green striped skin. They hold up well when baked, so try them the next time you're making pie.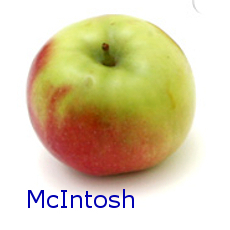 McIntosh
Best for: Baking and stewing.
The flesh of the McIntosh ideal for baking and stewing.  The skin is tough making it less suited for eating fresh.  They have a sweet tanginess.