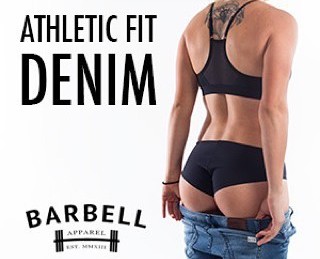 We all know finding a good pair of jeans is hard.  If you're athletic, lift weights, or have sculpted legs and glutes it's impossible to find some that fit comfortable, don't gape or squeeze or just look bad.  I almost never wear jeans anymore — only leggings, yoga pants, and running shorts, because jeans simply don't fit me.  Then I heard about this new company called Barbell Apparel who make denim jeans especially for athletes and active people.  "Functional denim" is how they promote it.  I was curious to try them so I ordered a pair for myself and my husband.
Upon receiving them I saw that they come in a nice cloth drawstring bag that you can re-use — it's always fun getting a bag.  They look exactly like normal jeans, but have a slight elasticity to them.   They aren't leggings with a denim pattern — they are real denim jeans, but with a bit of spandex sewn into the fabric to provide for flexion.  The quality of the jeans — the stitching, fabric, color — are definitely premium.  They are made in America, which is surely unusual and adds to their appeal in my opinion (almost nothing is made in America anymore).
When I first held them up in front of me, my initial thought was, "There is no way I am going to fit into those jeans."  I got the slim athletic fit jeans and they looked too small.  I thought they must have sent me the wrong size.  As I was trying them on for the first time,  I didn't think the slim fitting legs would even fit over my calves.  To my surprise I got them all the way on and done up — they fit like a glove.  They feel less like jeans and more like a second skin.  There was no pinching, squeezing, binding or gaping going on anywhere, like I always have with other lesser jeans.  They ride pretty low in front and it was a bit of different feeling at first, but I came to realize that it was actually better this way; no digging in when I squat.  The back is high enough that it doesn't gape at the butt crack even if you have a curvy booty.
I decided to really test these jeans out so I wore them through all my daily routines: chasing the kids, playgrounds, long walks, bike rides, house work.  Then I wore them to the gym and did squats, burpees, and box jumps.  Jeans are not typical attire to work out in, but these did not hinder any movement at all and didn't become more restrictive as I worked out.  To top it off they look good doing it.  I can just fancy them up with a nice top and shoes and wear them on a night out.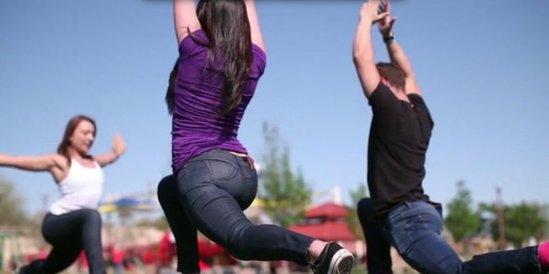 My husband, who is also very physically active, finds it impossible to comfortably wear jeans too.  He lifts weights and due to the shape of his thighs and glutes he simply cannot find jeans that fit him well.  He was skeptical about these Barbell Apparel jeans, but I told him that it was designed for bodybuilders to provide movement without restricting athletic performance.  He also ran them through their paces with his normal activities; this was his feedback:
Lifting weights, including full depth barbell back squats.  Feedback: Great mobility; slight squeezing at the bottom of a squat, not bad and not restricting. 
Coaching a youth soccer team; running around and kicking the ball with the kids.  Feedback: No noticeable restriction in movement.
Boxing class.  Feedback: Got some strange looks for wearing jeans, but movement and flexibility was fine.
Ran a 5k.  Feedback: Comfortable.
My husband and I both love them.  Flexible, comfortable, with no restriction in mobility, and they look good.  We both want to get more pairs of these.
If you're like me (or have a husband like mine) and can't find comfortable jeans; if you need a gift for someone who squats or has a curvy booty, I recommend that you give Barbell Apparel jeans a try.  They are as comfortable as you wish jeans could be.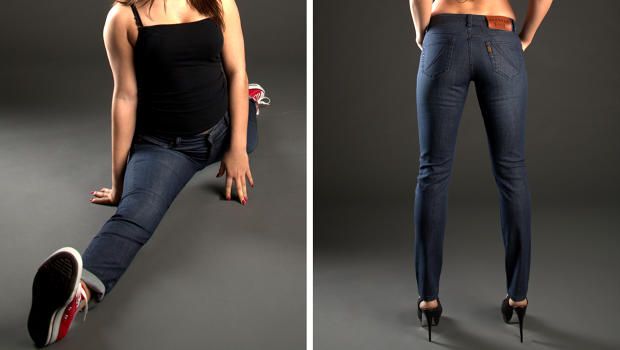 This is NOT a paid advertisement and I have no affiliation with Barbell Apparel.  I simply like the product and think that my readers might too.