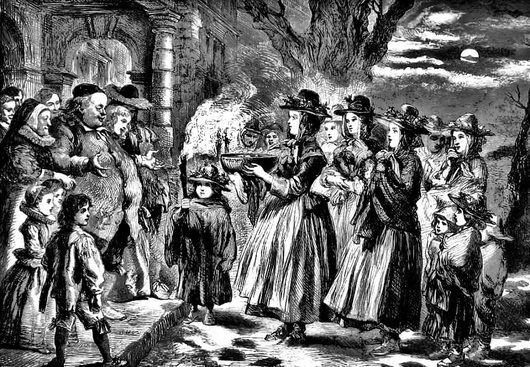 What is Wassail?
Wassail is a hot spiced punch associated with winter celebrations of northern Europe, often connected with Christmas.  The word dates back to the Middle Ages (AD 400 through AD 1600, also called the Mediaeval period). Particularly popular in Germanic countries, the name wassail is a contraction of the Old English wæs þu hæl, or "be thou hale!" (i.e., "be in good health").  It's basically the same as saying "cheers".
Modern wassail recipes can vary greatly, but usually call for a base of either wine, fruit juice or cider, simmered with mulling spices, possibly fortified with spirits such as sherry or brandy.  Essentially a hot spiced punch.
Classical wassail recipes are completely different.  In the old days wassail was ale mulled with spices and frothed eggs (yes, eggs), topped with slices of toast.  The addition of toast in the drink is the origins of the term "giving a toast", meaning "a call to drink to someone's health".  Sugar, ale, ginger, nutmeg, and cinnamon would be placed in a pot, heated, raw whipped eggs would get folded in, and topped with toast. Today, many microbreweries produce a spiced beer during the winter months that is very similar to classical wassail.
"Wassailing" is the practice of going door-to-door singing Christmas carols and requesting in return a drink of wassail or some other beverage. In other words: go out, get drunk, "toast the town", and  get "punch drunk". Hence the lyrics to thepopular well-know carol:
Here we come a-wassailing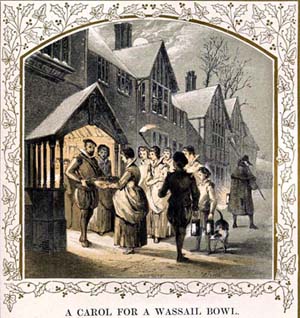 Among the leaves so green,
Here we come a wand'ring,
So fair to be seen.
Love and joy come to you,
And to you a wassail too,
And God bless you and send you a happy new year,
And God send you a happy new year.
Ancient wassail is frankly not very good.  It's very difficult to make because the temperatures need to be monitored closely or else the eggs become cooked — and nobody wants scrambled eggs with chunks of toast floating in their warm beer at a Christmas party.  If you really want to try the ancient Olde World version, here is a recipe.
This is my version of a classical wassail recipe.  Very easy to make, kid-friendly (if you leave out the optional booze), but with classical spices and fruit flavors.  I make this every Christmas eve and for Christmas parties — it's always a hit.
Ingredients
4 bags black tea
2 cinnamon sticks
12 whole cloves
10 whole allspice berries
4 cups cranberry juice cocktail
4 cups unfiltered apple juice
1/2 cup honey (or 1 cup sugar)
2 cups orange juice
1/2 cup lemon juice
1/2 cup sherry or spirits (optional)
1 orange, washed, sliced
1 lemon, washed, sliced
Instructions
Make a quart of tea: Add 4 cups boiling water to a large pot. Add spices*. Steep tea bags for 5 minutes. Discard used tea bags.
Add remaining ingredients (except spirits) and bring to a boil.
Allow to cool for 10 minutes.
Stir in spirits if desired (if you add spirits earlier you will cook off all the alcoholic goodness).
Notes
Serve at once with the ancient toast: "Was hail"!
The reply: "Drink hail"!
*To prevent the spices from floating around the pot while mulling, tie them into a cloth pouch, or get a reusable fabric tea bag from a loose-leaf tea shop.
http://mommyperfect.com/2015/12/wassail/
Copyright Mommy Perfect