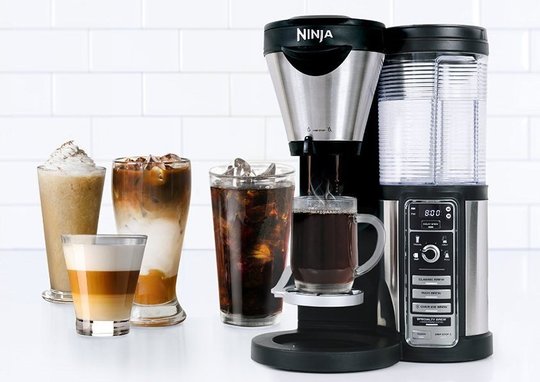 From the makers of vacuums and blenders, the Ninja Coffee Bar steps into the coffee domain with a luxurious feature-rich machine at a competitive price.  Mommy Perfect offers our review of this premium drip machine.
My husband and I have been on a coffee discovery journey for a lot of years now — more than a decade.  We've traveled far and wide to test craft and specialty coffees, and I have studied every method of brewing coffee that is available to man.  I admit to having gone "geek mode" about coffee, which I talk about somewhat in my article How to Make the Perfect Cup of Coffee.  We've contemplated opening a craft coffee shop, and someday we just might.  Well, this last Christmas we acquired the Ninja Coffee Bar, our latest gadget in my endless quest to experience great tasting coffee.  Ninja are the same people who make the Shark vacuums that you've likely seen commercials for.  The Ninja brand is their kitchen appliance division, offering blenders, slow-cookers, and now this coffee machine. Although it doesn't say Breville or KitchenAid on the label, I know that Shark/Ninja makes high-end, high-quality products which, by my estimation, are comparable in quality to those traditional brands.
When I first unboxed it I thought there was going to be a technological learning curve to go along with it.  I often find that new gadgets toss in so many buttons and features (which I won't use and don't need) that I need to keep the manual beside the appliance.  My microwave is like that and it annoys me — its button overload!  Not so with this Ninja Coffee Bar.  The buttons are few and specific, which I like, and now that I've been using it for a couple weeks I find that its not difficult to use.
The Ninja Coffee Bar is aesthetically designed with a brushed stainless steel body and black accents.  Unlike most other drip coffee makers that use a glass pot over a hot plate, the Ninja uses a double-insulated carafe to hold the brew and keep it hot.  Ninja's choice to use a carafe was a smart one.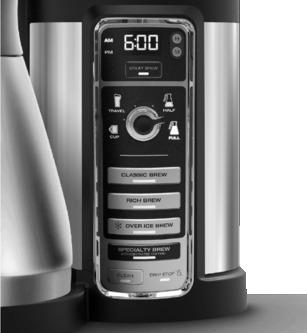 The machine has 4 buttons for controlling the brew style: Classic Brew, Rich Brew (which is bolder), Over Ice Brew (for iced coffees) and Specialty Brew which makes concentrated coffee as used in espresso-like drinks or recipes.  Secondarily the Ninja has a dial to select one of 4 sizes: Cup, Travel, Half Pot, and Full Pot. You can brew directly into your coffee mug or travel mug for individual servings, which saves you having to wash the pot if you're only drinking one cup.  This travel mug option is excellent.  I also like that you can switch from regular brew to a more rich one, as I prefer a weaker cup while my husband likes a bolder cup.  We can brew to our individual tastes.
As I discuss in my earlier article How to Make the Perfect Cup of Coffee, the brewing device is only one leg of the trifecta: beans, grinder, and brewing method.  To enjoy great coffee you need all three, and if one leg is weak the coffee won't be excellent.  The Ninja Coffee Bar does an excellent job of brewing coffee, better than most other drip systems on the market in my estimation, but it can't create miracles.  Improperly ground stale beans won't be revitalized into a gourmet cup of java, but with good beans and a proper grinder the Ninja Coffee Bar is capable of extracting a darn good cup of coffee.  It does the important things right: water temp, water volume, and brewing time.
For those of you who enjoy foamed espresso specialty drinks, but don't want to spend $5 at Starbucks, the Ninja includes a manual milk frother which will give you the mouth-feel that you're looking for.  It includes a recipe book to make it easy for you to concoct all sorts of tasty coffeehouse specialty drinks.  However, the coffee geek in me must be clear: the Ninja does not make "real" espresso, as that is technically a specific type of brewing method.  What the Ninja does is brew a rich "espresso-like" drink which will satisfy any Starbucks fan.  I make a tiramisu desert that calls for espresso, which the Ninja works great for.  I should comment that Keurig, Tassimo, Nescafe and others, also boast their "espresso" capabilities, none of which are capable of making authentic espresso either.
Unlike those pre-packaged, single-serving pod machines (Keurig, Tassimo, etc) who's beans were ground when George W. Bush was still President and have been in warehouse storage ever since, the Ninja allows you to use freshly ground beans that you dose to your preferences.  Frankly there's just no other way to do it.  Those single-serving pods add flavors and chemicals in an attempt to disguise how old and disgusting their beans are.  Although they are convenient, you don't want to drink that stuff if you can avoid it.  Due to the manual nature of grinding and dosing your beans, you may have to play with it as you learn how you prefer your coffee to taste.  The Ninja includes a dosing scooper which is clearly labeled for the amount of brew that you desire, but tweaking may be necessary.  Between how many scoops and which brew method you choose, you can make dramatically different tasting cups.
The Ninja includes a programmable delay brew feature so your coffee can be ready when you wake up in the morning, which is pretty standard on most coffee makers.  I've tried it, it's not complicated to setup, and works well.  For me personally, taste is paramount, so I choose to have my beans be freshly ground as close to brew time as possible, but not everybody is like me.  If you're happy with pre-ground beans or if you're in a particular rush, the auto timer is a good feature.
Pros:
Excellent and consistent brewing quality
Espresso-style specialty drinks
Great looking stainless steel design
Simple user functions
Reusable permanent filter
Insulated carafe
Cons:
I honestly didn't find any cons about this machine.  I will continue to use it and update this article if I come across any downsides that pop up with time.  If I had to really nit-pick I'd say that the name "Ninja" is its weakest attribute as it doesn't invoke visions of gourmet coffee.
With freshly roasted high quality beans and a capable burr grinder,  you'll have home brewed coffee as good as any craft coffee house can make.  If you're in the market for a coffee maker, the Ninja Coffee Bar is an excellent machine, loaded with features, especially for the price — you won't be disappointed.  They also provide a 60-day taste test money back guarantee.
Do you already have one of these?  In the market for one?  Are you a coffee geek like me?  Leave a comment below.
This is not an advertisement for the Ninja Coffee Bar or any other product.  Disclaimer: this article may contain affiliate links.