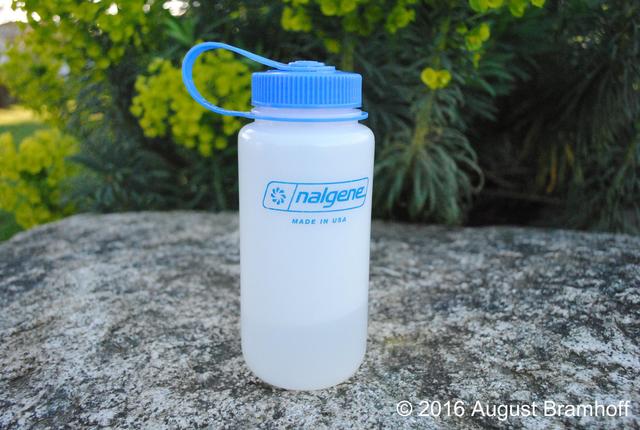 The other day my husband came home with three trophies that his mom had been keeping in storage from his youthful sports days.  This was from the "old days" when you had to earn a trophy by winning, not just participating, and winning wasn't considered "offensive".  I watched as he showed our kids the trophies; the pride of accomplishment and the fond connection to his childhood was quite evident.  It made me stop to think and look around — what about me?  Where's my trophy?
I realized that after multiple moves across the country, starting over here and there, I had nothing left of my younger years.  No symbol of the things I have done; no trophies or medals to prove it.  That is until my eyes rested on the one thing I use everyday: my trusty Nalgene water bottle.
It's the only thing I own that has been there for everything I have been through, every place I have gone and every adventure I have had.  My youth was not idle — from rock climbing, surfing, back country snowboarding, and riding horses, to rolling down a cliff in a 4×4 truck (not my fault, I was a passenger), cross-country road trips, my wedding and honeymoon, having kids and beyond.  It's always there dangling from my finger or attached to my pack, keeping me alive, never letting me down.
You wouldn't think that someone could grow to become fond of an inanimate and inane object like a drinking vessel, but there it is, the symbol of my life's accomplishments.  My trophy.  My Nalgene water bottle.  It may be a bit banged up, but its still strong and nearly indestructible (a bit like me).
I look forward to seeing what adventures in this life my Nalgene and I can get up to in the next 40 years.
Related: 12 Simple Ways to Drink More Water
This is not an ad for any specific product.  Disclaimer: this article may contain affiliate links.