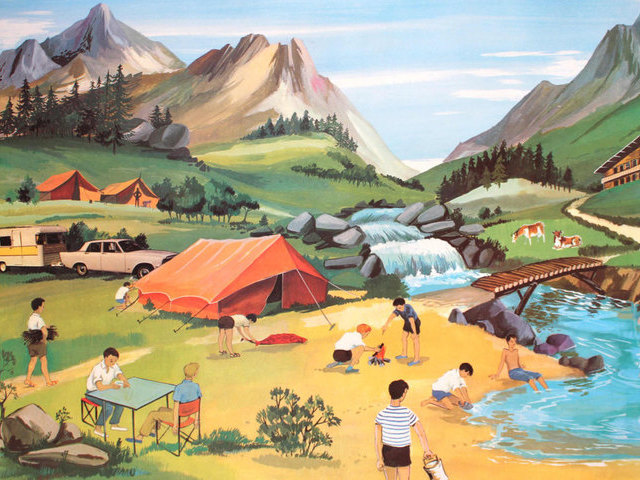 Mommy Perfect takes the family camping and my husband learns that camping is f*cking intense.  (Part 1 of 2)
As a child my family camped often.  Several times a year, every summer, camping in tents, in campers, in rain or shine, we were a camping family.  I love camping, but since having kids of my own we hadn't made time to take them camping.
I decided to organize a four-day camping trip with a few other families who's kids are friends with my own.  After all, camping is great fun and an inexpensive way to vacation!  We reserved some adjacent campsites at the Walt Disney World Fort Wilderness Campgrounds several months in advance and waited excitedly for the date to arrive.  The campgrounds are a sprawling 750 acres of pine forests, lakes, deer, rabbits and frontier theming with 800 campsites.  Because the grounds are so large, the Disney people recommended that we reserve golf carts for an additional $250.  My husband thought that was a ridiculous idea and flatly refused ("Its a campground," he said, "we sit by the tent, then we sleep.").
Gradually I purchased the necessary camping supplies, prepared, and packed all the non-perishables for our drive to the campgrounds in central Florida.  I suggested to Mr. Perfect that we buy inflatable air mattresses to sleep on, but again he flatly refused ("When I was a Boyscout we slept on the ground," he lectured again — so that was supposed to be good enough for our kids and us.)
Finally the week of our departure was upon us.  Our living room was filled with an orderly stack of supplies in lidded-plastic bins.  My husband made me aware (with a slightly snarky tone I will add) that my pile of supplies that was filling our living room — not yet including food — was larger than our SUV.  Honestly he is better at solving spacial puzzles than I am, so I flippantly told him to figure out how to pack it all in.  Initially his solution was to bring less stuff.  I permitted him to cull some of the less-necessary items like board games, but the remainder were mandatory and I wasn't going to budge.  He attempted to cull the supplies further, but as I said I was not budging, and the pile was still larger than our entire SUV.  So he drove away and returned an hour later with a new flatbed trailer he had bought at Lowe's for $1,000.  Triumphant at having solved the spacial puzzle he declared, "If it doesn't fit on there, it's not coming!"
Two days before the long drive our SUV began to make an unusual squealing noise as it drove.  An unscheduled trip to our mechanic determined that a bearing in a joint on the drive shaft was worn out and that it would only get louder until it was replaced.  Fortunately the repair job only took a day, but that was another $500 that we hadn't planned on.
It was the day before our departure, which meant it was time to shop for perishable food stuffs, when lo and behold I wake up with a stomach virus; vomiting and all the lovely rest.  All day I got nothing done, stuck inside with one end or the other on the toilet.  It was horrible!  I was almost sure that we would have to cancel the whole trip.  Fortunately the bug only lasted 24 hours, and by that evening the worst of it had passed; bonus, I was 10 pounds lighter!  I managed to rally enough strength to get the groceries bought that evening — at least now we could eat on the camping trip.
Next morning we loaded the trailer full, the SUV full, the kids were strapped in, and away we went.  On the road at last!  Flying down the highway I'm watching telephone poles go by; my eyes hypnotically tracing the power lines as they sag, meet up to the next pole, and sag again, like an endless wave.  Suddenly I catch my breath and sit up straight.  Sh*t!  I forgot the extension cord and power strip.  The next exit with a Walmart and we were supplied with the necessary electrical cords.
Back on the highway again when the kids begin asking the inevitable questions in 60 second intervals which only aggravates Mr. Perfect.  I guess this must have gotten him wanting alcohol because he asks me, "You did get beer, right?".  Sh*t!  I forgot.  The next exit with a supermarket and we were supplied with the necessary adult beverages.  I got some hard root beer for me, because yum.  Back on the road again.
After many more hours of driving, stops for fast food, bathroom breaks at rest stops, we finally arrived at the Walt Disney World campgrounds and by some miracle we were first out of the four families to get there.  We check-in, unload, pick our tent spot, and set up everything.  Yeah camping!  Now what do we do?  I guess we just sit in a chair and do nothing.  That is the weird thing about camping: you hustle and work so hard to get there, but then once you arrive you have nothing to do.  You have to force yourself to just stop, relax, and do nothing.
Eventually everyone else arrived.  We helped them unload and set up while the kids ran around like wild animals.  Soon it was dark, time to make dinner and smores by the campfire.  Smores and campfires are a stressful venture with kids. Not only do you have the possibility of kids falling in the fire as they push and shove for a good spot, but you also have the inevitable excited swinging of the flaming marshmallow on a long stick.  Hazards everywhere.  You want them to do it themselves and learn how it all works, but after they lose their 15th flaming gooey marshmallow into the fire you end up doing it for them anyhow.  Then they want another one.
After everyone was ready for bed one of the other kid's father decided to tell all the kids ghost stories around the fire, preschool aged through middle school.  Mr. Perfect and I were tired and ready to crash, so we left them to it.  Are you ready to not be surprised by what we learned?  When kids are told ghost stories they scream.  A lot.  By midnight my husband had had enough.  (How does that father know so many ghost stories?)  The talking, the giggling, with the dramatic finale and a dozen kids screaming was impossible to sleep through, so Mr. Perfect eventually announced that it's time to pipe down for the night.
The next day at sunrise the coffee couldn't be ready fast enough.  With sore neck and back from sleeping on the hard ground (remember, Boyscouts don't use air mattresses), I sat zombie-like with a mild headache in front of the fire with coffee in hand like Gollum with his ring, waiting for my brain to wake up.   The kids were charging all about undoubtedly waking up the rest of the campground.  Mr. Perfect informed me that it didn't hurt to sleep on the ground when he was kid, but for some reason it does now.  No sh*t genius.  Later that afternoon he made a trip to the nearest Walmart and bought a queen size air mattress for us to share; the kids can still sleep on the ground though.
To be continued… in Camping if F*cking Intense Part 2 of 2.