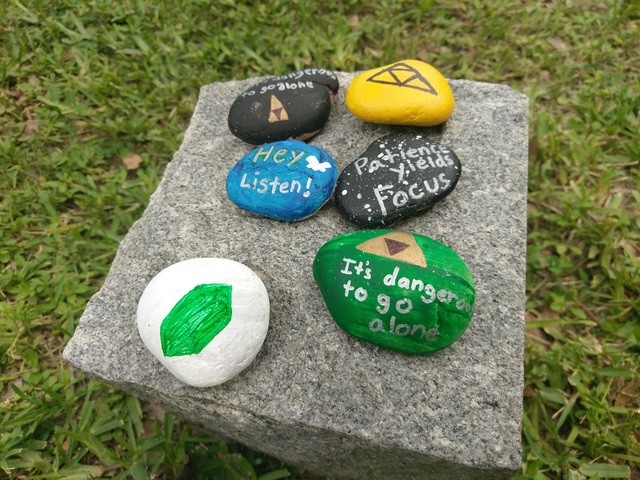 Mommy Perfect discovers a new social game that becoming popular called The Kindness Rocks Project and spreads the word.
I want to tell you about a new trend that is spreading around the world — it's a message of helping others through random acts of kindness, and comes in the form of small painted rocks.  It can seem sometimes difficult with our hectic lives and the world in apparent turmoil, to keep a happy outlook and feel faith in humanity.  The idea behind this project is just to bring a little random happiness to your day in hopes you may pass it on and spread the kindness, touching lives in positive ways, thus the name: The Kindness Rocks Project.
The concept is simple: random people, kids and adults, paint small rocks with pictures and inspirational quotes, then place around your town in hopes that someone finds them.  The hope is that the message speaks to them and it brightens their day.  If it speaks to you then you may pick it up and keep it, but it is suggested to replace it with one you make for others to find, essentially passing it along.
There are Facebook groups popping up all over the world as this kindness rocks project catches on, usually titled as [the name of your town] plus "rocks", for example, "Portland Rocks"  You can make a game of it, walk around your town hunting for kindness rocks, take pictures and post them to your local painted rock group or to the original Kindness Rocks Project Facebook page.  If you don't find a page for your town's kindness rocks project then go ahead and start one.
I thought this would be a fun thing to do with my kids this summer, so we got the instructions and started our adventure.  Flat, smooth, river rocks work best for painting, but we don't live near any rivers from which we could take some, we had to buy them.  I found a pond store that sold all sorts of decorative rock and bought half a dozen for a couple dollars.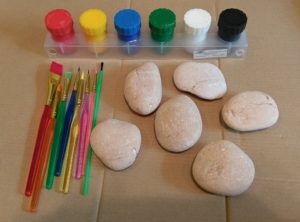 Next we checked our craft drawer for a stash of kid's acrylic paint to use as the base color of the rock.  Fortunately (or unfortunately in the mind of my husband) I never throw away art supplies, so we had a bunches of colors to choose from.
When that was dry we wrote on them with oil-based Sharpie paint pens.  You have to remember to write the #thekindnessrocksproject on the back so anybody unfamiliar with the game can look it up.  After all the artwork was completed and dried, I sprayed them with a spray paint can of non-toxic sealant that I bought from a craft store.  You could also use clear-drying Elmer's glue to seal the paint.
The last and most important step was finding a place to put them.  We brought our rocks with us to a farmers market downtown and as we strolled along we saw other people's kindness rocks sitting in planters and flower beds, so we swapped them.
Find out about how it began and how to get involved at their Kindness Rocks Project Facebook page.  Together we can do more to create positive change, so lets help each other have better days.
#THEKINDNESSROCKSPROJECT