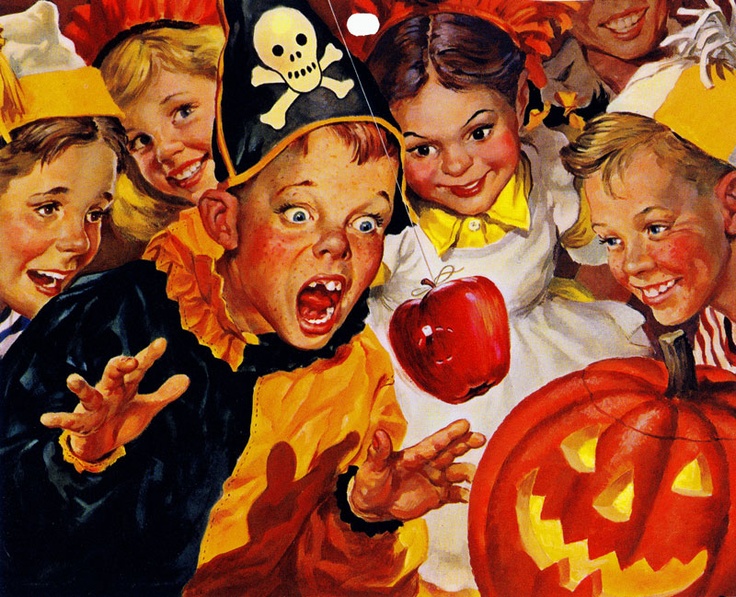 Well here we are cruising through this year so fast that its already time to think about Halloween again.   When I was 9 years old my mom hosted a very simple Halloween party for me and a few of my neighborhood friends.  Looking back now, it was very basic, but I remember it so fondly.  My friends were all super impressed, I guess because their parents never did anything like that for them.  Last year I decided to host one for my kids.  The initial idea sounded great, but if you're like me, actually hosting one sounds like a nightmare.  I immediately began thinking of all the elaborate magazine and Pinterest party ideas that look so marvelous — the anxiety set in and then I needed a drink and a sit-down.  I worried I wouldn't have the time/money/creativity to keep up with all of that.  I was already talking myself out of the idea, when I realized that if I can keep it simple like my mom did, the kids will love it just as much.   No need to channel Martha Stewart.  I don't need to impress the parents — its for the kids!  With that motto firmly printed in my brain I set out to make a fun, but simple and inexpensive, kids Halloween party.  Ages 5-12.
1. Keep It Simple
Its for the kids, not the parents.  Although the parents will enjoy it as well, keep the focus on the kids.  The kids won't remember it nor care if you spent 5 hours making a pumpkin soup from scratch that you serve in little bread bowls, so keep it simple.
2. Decide Your Budget
Do this in advance of any other planning.  Budget what you can afford and stick to that.  Limiting your budget doesn't have to mean a limit to the fun, but surprising your husband with an over-limit credit card isn't going to help the household stress heading into the Christmas season.
3.  Limit The Guests
Decide upfront on a limit of friends each child can invite.  Consider the friends' siblings and parents who will likely attend, figure out how many people your house can comfortably hold, work it all in with your budget from #2 (above).  For example: if you have 3 kids of your own, they each invite 2 friends, that's already 9 kids; plus their mothers is 15.  If fathers or siblings come as well, you're over 20 people!  Not everybody has room for that many people in their home.  There's nothing wrong with giving your children a limit on how many friends they can invite.  We live in the real world, in real homes, and there's no shame in setting limits.
4. Pick a Date
Pick a few dates that work for you, then start shopping it to their friends.  I suggest a Friday evening (after school) or Saturday afternoon.  Doing it on Halloween night doesn't strike me as especially workable for most people, but to each his own.
5. Costumes or not?
Its not an automatic that a Halloween party be a costume party.  Depends on what activities you plan, but most parents don't want to ruin their costumes before Halloween.  Personally, I tell the kids no costumes.
6. Buy Simple/Inexpensive Decorations
Let your budget dictate, but if you've ever been to craft store or a seasonal Halloween store then you know how elaborate (and costly) these can be.
Tablecloths: Orange, black, or Halloween specific tablecloths are inexpensive at a dollar store or a party store.  ~$2
Balloons: Orange, black, or yellow (autumn) balloons.  No helium needed, just blow them up and hang them around with some Scotch tape.  ~$2
Paper cut-out decorations.  Jack-o-lanterns, black cats, scarecrows, etc.  Use a push-pin to attach to the walls.  ~$1 and up (each).
7. Games
"Pin the the Nose on the Pumpkin".  You can buy online for a few bucks, or make your own with craft paper.  Not complicated.  Same rules as the classic "Pin the Tail on the Donkey".  If you make your own, be sure to make a dotted outline of the nose on the pumpkin in advance so that everybody can see where they're supposed to have gotten it.  ~$4
"Eat the Doughnut from a String".  Hang a doughnut on a string about face height and try to eat it without using hands.  Can be a race or not.  Use a push-pin to hang the string above a doorway if you don't have any better locations.  Cotton twine ~$5.  A dozen donuts ~$5 at your supermarket.
"Pumpkin Bowling".  Decorate up to 10 plastic bottles (1 or 2 liter, empty, washed) with painted or glued on faces, set them up like bowling pins and knock them down by rolling a small pumpkin.  Even the roundest pumpkins won't roll straight, which kids think is really funny as it wobbles all around.  ~$2 for a pumpkin (not counting the soda pop you drank).
"Ring Toss".  When done bowling, re-purpose the bottles for a ring toss game. You can make rings by cutting out the center of paper plates.
"Bobbing For Apples".  Its a classic, and the kids love it.  You need a very large bucket or half-barrel for this game.  Your average buckets simply won't work.  Be warned: I learned through personal experience that some parents are very afraid of germs and don't want their kids dunking their faces into a communal bucket.  Personally I think its fine.  Kids are exposed to more germs at school or a swimming pool, but you know how some parents can be.  If you decide to play this game, tell the parents in advance to bring an extra shirt to the party.  Its also best to play this game outside.  70-quart horse "muck bucket" for ~$20.  A bag of apples ~$4.
8.  Themed Snacks
Fun snacks can help create the atmosphere, just remember to keep it simple. Don't go bonkers!  Some ideas are:
"Witches Potion" (or Goul-Aid);  Get a large soup pot and fill with a drink of your choice (Kool-Aid, juice, punch, etc).  Buy dry ice from the supermarket and using gloves carefully place chunks into the pot.  The spooky smoky vapor is always a hit at the party!  I suggest that you call around to find the dry ice before driving all around town — not every place sells it.  ~$15 for a pot; ~$1 for Kool-Aid; ~$10 for dry ice.
"Ghost-Shaped Sandwiches"; either buy a ghost cookie cutter, or just use a knife and do your best by hand.  Peanut butter and jelly, lunch meats, cucumbers and cream cheese, etc.  ~$5
"Worms and Dirt";  Chocolate pudding topped with crushed Oreo cookies and gummy worms on top.  To crush the Oreos, separate the cookies and scrape off the creme filling.  Put just the cookie parts into a ziplock back and let your kids smash it with something solid (meat tenderizer, rolling pin, etc).  ~$5
"Witches Brooms";  Mini peanut butter cups unwrapped and up-side-down with a pretzel stick in the center.  ~5.
Sangria ("blood") for the parents;  A couple bottles of Yellow Tail Sangria, which you can buy at Walmart or a liquor store, add some fresh fruit (sliced oranges, sliced apples, grapes), put it in a beverage dispenser with a spooky label.  Sangria ~$10; fresh fruit ~$5; drink dispenser ~$20.
9.  Background Noise
Haunted House Sounds; Play some spooky sounds or music in the background.  There are CD's you can buy or find something on the internet.  I like this old Disney Haunted House record.  Free.
Put on a classic Halloween special;  The kids never stop to watch it, but you can put on a TV show as background ambiance.  Its The Great Pumpkin Charlie Brown and The Adventures of Ichabod Crane (Disney animated movie) are a couple of great ones.
It's not super fancy, but the kids are guaranteed to love it.  And for the rest of their lives they'll remember the Halloween parties you gave them when they were kids.
Disclaimer: this article may contain affiliate links.