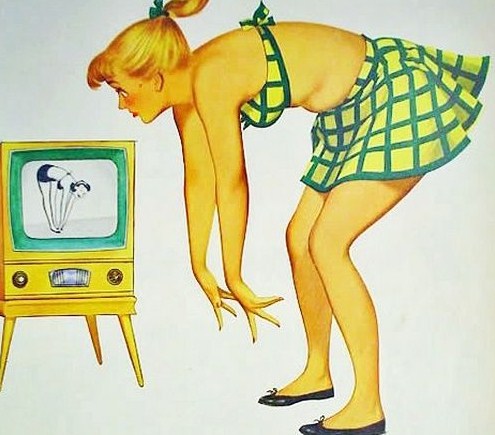 By Jessica Fletcher
As someone who hasn't seen the scale dip below 160 in a long time, let me tell you it was not very enjoyable to read that 160 is what the average man weighed in 1950.  I'm pretty sure that the average man in 1950 was a little bitch that I could beat the ever-loving shit out of, though.  I am sick and tired of these damn cliches meant to make thick girls (like myself) feel better about their body types.  "You're more than a number!"  I know I'm more than a number.  I'm more like three numbers.  
Fact is, I can kick some ass and put away some serious food, which are both activities I enjoy immensely.  Yeah, I have some huge thighs, and a protruding rump, complete with a little jelly on my sides and front, and I bring the shake with them fries.  Which, I don't even eat anymore.  That's right.  I stopped eating french fries.  Do you think my thighs noticed?  Fuck, no.  They're still huge.  I'm built like a truck.  I eat like a horse, because I'm constantly hungry.  I crave all the food.  I am not blessed with a discerning palate.  I envy the picky eaters, because I wonder what it would be like to not literally contort with arousal whenever I see, smell, or even hear, food.  
So to make sure I can still fit into regular-people-sized chairs, doors, and vehicles, I struck up a fancy for exercise.  I go to a gym now which offers many classes at all hours of the day.  The class is the same all day, but it changes from day to day.  You can count on being tortured on the treadmill, on a water-rower machine, and with free weights – or your own body weight! I love it.  I don't love it.  I hate it, but I love it.  Whatever, the people are great and not everyone looks like Jillian Michaels.  A lot of people at this gym look like Jack Black, actually.  However, there are a good number of ladies who wear the apparel, and have obviously spent hours toning and maintaining their svelte shapes.  
Today I took a seat on a water-rower next to one of these trim little harpies, and made a passing comment about how there was a very high probability of me pissing myself when doing the jump squats later on in this workout.  She laughed, and glanced at all my rolls, dismissed me, and resumed her focus on the water-rower.  It was time to dig in.  We had all just finished a circuit on the treadmills and with some free weights.  Now, we were to row 600 meters and do a circuit of 30 each of jump squats, squat-jacks, and squat calf raises.  I reset my counter, and started rowing.  I got into the music, which was a thumping rendition of some horrible pop song that had been overplayed on the radio to irritation, before it got remixed into something you'd hear at a club.  I think it was, "Call Me Maybe." Whatever.  I timed my rows to the beat, and before I knew it, my 600 meters were done.  Miss Trim and Perky was still rowing.  Holy shit, I might beat her!  
I launched into my circuit of tortuous squat jumps and of course, as I predicted, I nearly pissed myself.  The consequences of being slack on my Kegels during my pregnancies.  I can't even enjoy a trampoline anymore.  I finished that circuit, and even with slogging back some water and toweling my face, I was still ahead.  Time to row again.  This time 700 meters.  I beat her again.  I swallowed my smirk, and resumed the fucking squats that now stung my thighs much more viciously than before.  I shook out my legs, and got back onto the rower.  800 meters.  Done! Ha!
Take that, skinny bitch!  I almost let those words actually escape my too-eager tongue.  Instead, I did another circuit of squat jumps, jacks, and calf raises, and said nothing.  I enjoyed the feeling of satisfaction that I got from knowing I was stronger in one area than that girl.  I entertained the thought that maybe she's recovering from an injury and that she just might not be on her game tonight.  Too often, I was in that exact same spot.  Forget that shit!  I beat this skinny little twat through all the circuits and rowed an additional 500 meters after I was officially done!  My legs were screaming at me, but they settled down to a dull grumble soon enough, and after I had stretched out, they had completely quieted.
I guess you can't always tell a book by its cover.  I figured this muscular, trim, energetic little bunny would out perform me, and I'm sure she thought so as well.  Ha!  I saw her clench her jaw every time I hit the target before she did.  I bet she wondered how the hungry hippo beside her was rowing faster, and getting her circuit done more quickly when she was hauling all that jiggly padding around.  I left the gym feeling quite pleased.  I was, for the first time, victorious.  And not for the last time, hungry.
Jessica Fletcher is a guest writer for Mommy Perfect.