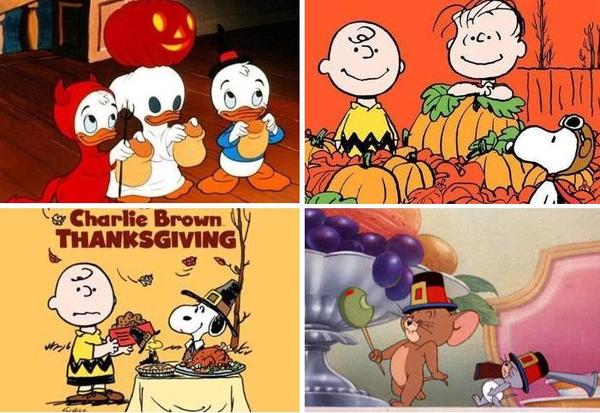 One of our favorite holiday traditions as a family is when we get to pull out the seasonal movies (and books) from storage and enjoy some classic programming together.  When I was a kid (and perhaps many of my readers as well) the only time we got to watch a holiday special was the one night when they played it on TV.  Obviously kids today can watch them limitless, so we at least put them away once the holiday is over to give these specials the feeling of actually being "special".
Here is a list of the best Halloween and Thanksgiving movies and specials that you can watch as a family.  No horror or blatant adult themes.  If you don't already have all of these, each title below is a link that will show you where you get get a copy for yourself.
Let us know in the comments below which ones your family enjoys most.
Family Halloween Specials
Its The Great Pumpkin, Charlie Brown (1966)
The Peanuts gang celebrates Halloween, with Linus hoping that, finally he will be visited by The Great Pumpkin; while Charlie Brown is invited to a Halloween party.  This fits the truest definition of a classic: its as enjoyable for kids of today as it was in 1966 when it was first released.  All ages.
The Aventures of Ichabod (aka The Legend of Sleepy Hollow) (1949)
A retelling of Washington Irving's story.  Ichabod Crane, the new schoolmaster, falls for the town beauty, Katrina Van Tassel, and the town Bully, Brom Bones, decides that he is a little too successful and needs "convincing" that Katrina is not for him.  Bing Crosby lends his pipes to this Walt Disney masterpiece in a unique format as storyteller and singer.  This was originally released as a double-feature, so the first half of the movie is "Mr. Toad/The Wind In The Willows".  Skip past that to get to the Ichabod feature.   May be frightening for children under 5.
Ghost Busters (1984)
Three odd-ball unemployed scientists setup shop catching ghosts in New York City and end up stumbling upon a gateway to another dimension.  This 80s comedy adventure still entertains adults and children alike.  May be frightening for children under 10.
Coraline (2009)
An adventurous girl finds a doorway to another world that is a strangely idealized version of her frustrating home, but it has sinister secrets.  This claymation rendition of Neil Gaiman's book of the same name is visually tantalizing and surprisingly creepy, even for adults.  May be frightening for children under 9.
Hocus Pocus (1993)
After three centuries, three witch sisters are resurrected in Salem Massachusetts on Halloween night, and it is up to two teen-agers, a young girl, and an immortal cat to put an end to the witches' reign of terror once and for all.  May be frightening for children under 8.
Halloweentown (1998)
The Cromwell clan split their time between the real world and "Halloweentown", but the son of an old rival threatens to make the latter "real" and the real world a place of monsters.  May be frightening for children under 7.
Trick or Treat – Donald Duck (1952)
After Donald Duck plays a cruel Halloween prank on his nephews, the 3 team-up with a witch and her broom to teach him a lesson about 'tricks and treats.'  This short cartoon is only runs 8 minutes, but its become a traditional family Halloween special for several generations.  Unfortunately the Disney Company has not released it for sale, but its available for viewing on YouTube.  All ages.
Flying Sorceress – Tom and Jerry (1956)
Tom gets a job being a witch's cat and has a frightening ride on her broomstick.  Another animated classic like Trick or Treat (above), this 6 minute short is available on the Tom and Jerry Spotlight Collection DVD.  All ages.
Halloween also mentions, for the wee little ones…
The above list is easily enjoyable for children and adults of all ages.  Here is a list especially for the little kids, which adults may not want to sit through.
Curious George: A Halloween Boo Fest (2013)
Halloween is almost here and George can't wait for the festivities to begin: carving pumpkins, costume contests, and especially the Annual Boo Festival.  All ages.
Berenstain Bears: Halloween Treats (2009)
The furry clan returns with jack-o'-lantern adventures that will make your bones tingle with fright and delight!  All ages.
Thomas and Friends: Halloween Adventures (2009)
Celebrate Halloween with Thomas and his friends…tricks and treats abound!  All ages.
Family Thanksgiving Specials
There are much fewer Thanksgiving specials available.  I suppose Hollywood just hasn't managed to make this holiday entertaining, which is kind of a shame because I personally really love Thanksgiving.  Here are the best ones that we like to watch.
A Charlie Brown Thanksgiving (1973)
Peppermint Patty invites herself and her friends over to Charlie Brown's for Thanksgiving, and with the help of Linus, Snoopy, and Woodstock, he attempts to throw together a Thanksgiving dinner for the gang.  All ages.
This is America Charlie Brown – The Mayflower Voyagers (1988)
The Peanuts Gang reinacts the Mayflower Voyage in an historical context.  This is available on the same disc as A Charlie Brown Thanksgiving (above).  All ages.
The Little Orphan – Tom and Jerry (1949)
The orphan mouse, Nibbles, spends Thanksgiving with Jerry, but Jerry's cupboard is bare.  The mice partake of Mammy's Thanksgiving feast while Tom tries to catch them.  This 8 minute animated short won an Academy Award that year.  All ages.
Holiday Inn (1942)
At an inn which is only open on holidays, a crooner and a dancer vie for the affections of a beautiful young performer.  Although this is often lumped in with Christmas movies, it spans all the holidays of the year, and includes a Thanksgiving segment.  Stars Bing Crosby and Fred Astaire.  This is the movie that the song White Christmas was written for.  (Fun fact: White Christmas is the best selling song of all time.)  All ages, although young kids may find it boring.
What are your favorite holiday specials?  Did I miss any?  Leave a comment below!
Related: Mommy Perfect's list of The Best Family Christmas Movies
Disclaimer: this article may contain affiliate links.