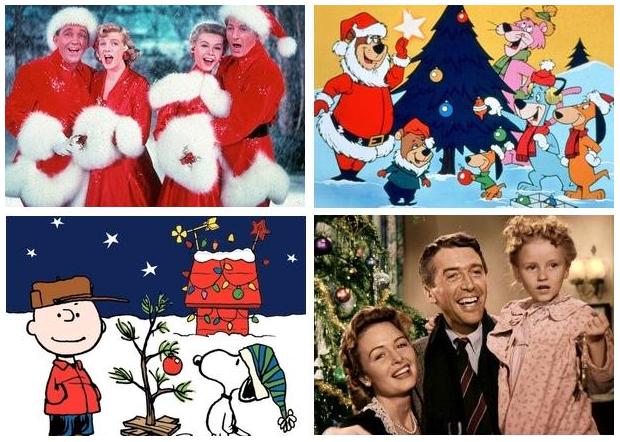 When I was young, if I wanted to watch a Christmas special I had to wait for it to come on TV on one of the 4 available stations.  I realize that I am dating myself with that comment (youngsters: this was before cable TV, Netflix, internet, or DVD players).  We marked it on the calendar, waited for it to come on, and they usually only played the show/movie once, maybe twice, in the season.  They were called "specials" because they really were special.  With Thanksgiving being the official kick-off to the Christmas season, the local TV stations would play the first Christmas show of the season on Thanksgiving night (American Thanksgiving that is, not Canadian Thanksgiving).
So in keeping with that tradition, we put away the Christmas DVDs all year and don't pull them out until Thanksgiving night, when we let them watch one after dinner.  And right through New Years Day we have a frequent stream of Christmas specials playing, at which point they get put away again.  I think the rarity helps to add a bit of "specialness" to the movies.
As with my earlier list of the best Family Halloween and Thanksgiving movies, here are my picks for the best Christmas movies and shows.  Plenty of kid's cartoon specials can be annoying for adults to watch, but we have put together a list of charming Christmas tales that are quite tolerable for adults.  These are the favorites in our household.  If you don't already have all of these, each title below is a link that will show you where you get get a copy for yourself.
Share with your friends and family, and let us know in the comments below which ones your family enjoys most.
A Charlie Brown Christmas (1965)
The original Charlie Brown special that started them all.  Charlie Brown seeks the real meaning of Christmas after becoming disenchanted with all the commercialism he sees around him.  Notice how the same themes people struggled with 50 years ago still plague us today.  All ages.
How The Grinch Stole Christmas (1966) (animated)
Boris Karloff narrates this original animated Dr. Seuss favorite about a grumpy hermit who plans to keep Christmas from coming.  All ages.
Elf (2003)
A human who was raised in the North Pole believing himself to be a Christmas Elf travels to New York to seek out his biological father and restore the Christmas spirit to those who have forgotten.  Ages 7+.
Rise of the Guardians (2012)
An all-star cast in an entirely original holiday story that will touch and entertain children and adults alike.  The Immortal Guardians (Santa, The Easter Bunny, The Tooth Fairy, Sandman, and Jack Frost) team up to prevent the evil Boogie Man from destroying the innocence of children across the world.  Starring Hugh Jackman, Alec Baldwin, Chris Pine, and Jude Law.  Ages 7+.
Prep and Landing (2009)
Animated story of how the Christmas elves prepare each house in advance for the arrival of Santa Claus.  Very funny for adults as well as kids.  All ages.
Mickey's Christmas Carol (1983)
The Disney characters play the roles in Dickens' classic tale.  All ages.
The Night Before Christmas – Tom and Jerry (1941)
It is Christmas Eve and Tom gets to know the spirit of giving after he tosses Jerry outside in the cold when he catches him trying to get to a present.  This 9 minute short has such beautifully hand-drawn animation that you'll wish they still make cartoons of this quality.  It was nominated for an Academy Award.  Available on the Tom and Jerry Golden Collection DVD.  All ages.
Yogis First Christmas (1980)
Yogi, Boo Boo, and Cindy awaken from hibernation to join their friends in Christmas celebrations, but can Yogi stay awake until Santa comes?  All ages.
Casper's First Christmas (1979)
Casper gets a Christmas visit from Yogi Bear, Boo Boo, and the whole gang.  All ages.
How The Grinch Stole Christmas (2000) (live-action)
Jim Carrey plays the Grinch in the live-action retelling of the Dr. Seuss book.  All ages.
It's a Wonderful Life (1946)
An angel helps a compassionate but despairingly frustrated businessman by showing what life would have been like if he never existed.  Such a beautiful and engaging story.  Although this is considered to be a Christmas classic, it spans the lifetime of the protagonist George Bailey, played by Jimmy Stewart.  Originally produced as black and white, I prefer the colorized version as I feel that it draws the audience in more, simply due to the additional visual clarity.  All ages, although young kids may find it boring.
TNT's A Christmas Carol (1999)
The classic Dickens tale of hope and redemption.  Some of you may call me a blasphemer for saying this, but I find all other version of this beloved story to be inferior.  Starring Patrick Stewart as Scrooge, this is far and away the greatest rendition on screen.  The script was the most accurate to the book, and Stewart absolutely nails the role like none other.  This version brings me to tears every time I watch it.  All ages, although young kids may find it boring.
Holiday Inn (1942)
At an inn which is only open on holidays, a crooner and a dancer vie for the affections of a beautiful young performer.  Although this is often lumped in with Christmas movies, it spans all the holidays of the year.  Stars Bing Crosby and Fred Astaire.  Fun Facts: This is the movie that the song White Christmas was written for.  White Christmas is the best selling song of all time.  All ages, although young kids may find it boring.
White Christmas (1954)
A successful song-and-dance team become romantically involved with a sister act and team up to save the failing Vermont inn of their former commanding general from WWII.  Stars Bing Crosby, Rosemary Clooney, and Danny Kaye.  Fun facts: Rosemary is George Clooney's nephew.  All ages, although young kids may find it boring.
What are your favorite Christmas specials?  Did I miss any?  Leave a comment below!
Disclaimer: this article may contain affiliate links.