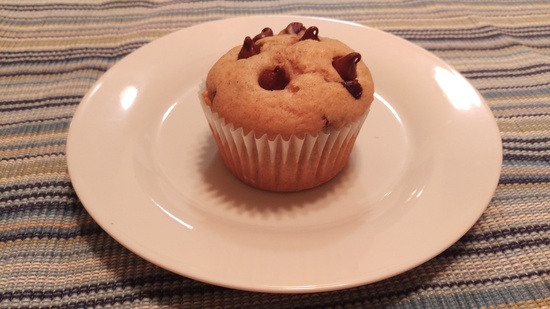 Mommy Perfect offers up creamy and tangy Greek yogurt dark chocolate chip banana muffins packed with protein.  Your kids won't realize that it's good for them!
I set out to create a muffin recipe that my kids would gladly eat while being mostly healthy.  I had a bunch of ripe bananas that needed to be eaten so I started with that.  Add protein-rich Greek yogurt, some dark chocolate chips, and I had what I was looking for — they love them!  In fact they ate the whole batch at once, so I had to make another batch to save for their school lunches.  Easy to make, and your kids can even help by mashing up the bananas for you.  Just be sure that they are fully ripened (when little dark spots form on the peel).
Greek Yogurt Dark Chocolate Chip Banana Muffins
Ingredients
12 oz flour (or 2 1/4 cups by volume)
1 1/2 tsp baking powder
1/2 tsp baking soda
pinch of kosher salt
1 tsp cinnamon
4 Tbls butter, softened
1 cup sugar
1 tsp vanilla extract
2 eggs
1 cup mashed, fully ripened bananas (roughly 3 bananas)
1 cup fat free plain greek yogurt
1 cup dark chocolate chips
Instructions
Preheat oven to 350 deg.
In a bowl sift together baking powder, baking soda, salt, and cinnamon. Set aside.
In a separate bowl cream together butter, sugar, and vanilla. Add eggs, mashed bananas, and yogurt; mix well.
Add flour mixture and chocolate chips. Mix until just combined (don't over mix).
Spoon batter into regular sized paper-lined muffin cups. Fill roughly 3/4 of each cup with batter.
Bake for 20-25 min or until tops are golden and a toothpick inserted into centers comes out clean. Allow to cool for a few minutes before transferring to a cooling rack.
http://mommyperfect.com/2016/01/greek-yogurt-dark-chocolate-chip-banana-muffins/
Copyright Mommy Perfect
Inspired by this recipe from KRAFT.