Experts say you need to eat a good breakfast to perform your very best for the rest of the day.  Mommy Perfect's Buttermilk Power Pancakes have enough protein to start you day off right!
Most days my kids only want pancakes for breakfast, so I set to work coming up with a recipe that provides more protein than your average pancake mix while still tasting great.  Every other high-protein pancake recipe that I've ever come across simply has you adding protein powder to a traditional recipe, and let me assure you that tastes like crap!  And it doesn't matter which protein powder you use, it doesn't dissolve properly and once cooked it becomes mealy.  Yuck!  There is one decent tasting boxed mix called Kodiak Cakes which the kids enjoy, but its not very cheap, if you can even find it at your supermarket.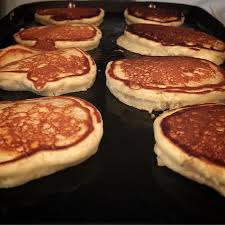 These Power Pancakes have 4 grams of protein per cake and the whole batch
costs less than $1.  My kids and I are very pleased with the results.  These are fluffy and flavorful buttermilk pancakes — your family won't even know they are eating healthy.  You can even mix up the dry ingredients the night before to save yourself some time in the morning.
Ingredients
1 cup flour
1 Tblsp sugar
1/3 cup powdered milk (also called instant dry milk)
1 1/2 tsp baking powder
1/2 tsp baking soda
1/2 tsp salt
1 cup buttermilk*
2 eggs (or 1/2 cup egg substitute like EggBeaters)
1 Tblsp vegetable oil
Instructions
Mix dry ingredients together, sifting in the baking powder and baking soda to prevent clumps.
Add wet ingredients and mix until just smooth.
Lightly grease skillet on medium-low heat. If you have an infrared thermometer (which every kitchen should have) the skillet should be around 350 degrees.
Drop ladles of batter onto skillet. Cook until edged are dry and bubbles in the center have popped. Flip, cook for another two minutes or so (depending on the heat of your skillet -- adjust time and heat accordingly).
Notes
Serve with maple syrup, fresh fruit, or cinnamon and sugar.
*If you don't have buttermilk you can make your own really easily. Although the Power Pancakes won't be as thick, it will still achieve the taste and the rise that you're looking for. Simply mix 1 tablespoon of lemon juice or vinegar to 1 cup of milk and let it sit for a few minutes.
http://mommyperfect.com/2016/03/power-pancakes/
Copyright Mommy Perfect
Related: Check out my Easy Breakfast Options for more school morning ideas to make your life simpler.
Lately my kids have been topping their Power Pancakes with cinnamon and sugar.  They sprinkle it on top in place of syrup, and believe it or not they end up eating less dietary sugar overall because they use far less than with syrup.  Here's how you make it:  Use an empty ground cinnamon container (the taller ones with a flip-top lid, not the little squat ones).  Add 2 tablespoons sugar and 1 teaspoon ground cinnamon.  Close lid, shake well to combine, sprinkle as needed.