Every year in late October and early November most Canadian wear little red poppy pins in honor and remembrance of fallen soldiers.  Depending upon where you live you may have been exposed to this custom.  Canadians are fiercely proud of their veterans, and I would like to speak a bit about this honorable tradition.
The poppy became widespread in Europe after bombing and shelling from The Great War (World War 1)  enriched the soils in France and Belgium with lime from the explosives and rubble from the fighting during those years.  These little red flowers became so abundant that they even flourished around the grave sites of the war dead.
These flowers were noted in 1915 by a Canadian doctor named John McCrae, while serving in the Canadian Artillery.  In his poem "In Flanders Fields".  Flanders Fields is the name of the battlefields of parts of Belgium and Northern France.  Today millions of poppies grow there naturally.
In November of 1918, war secretary Moina Michael read this poem and made a personal pledge to always wear a red poppy in remembrance, "keeping the faith with all who died."  In 1920 a French woman named Anna Guérin was inspired by Moina Michael and thought to make artificial poppy pins as a way to raise money for the orphans and others who suffered from the war. 
In 1921 Anna Guérin visited Canada and convinced the Great War Veterans Association of Canada, now known as Royal Canadian Legion,  to adopt the poppy pins as a symbol of remembrance to aid in fundraising for those in need.
Today, the Poppy Campaign is one of the Royal Canadian Legion's most important programs. The money raised from donations provides assistance for Veterans in financial distress, as well as funding for medical equipment, medical research, home services, long-term care facilities and many other beneficial veteran assistance programs.
You can acquire artificial poppy pins by donation from one of the thousands of Legion members volunteering their time to raise money.  It is traditional to wear the red poppy pins, over your heart, from the last Friday of October until Remembrance day, November 11.  On that day you are supposed to place the poppy pins at a veteran's memorial or grave site.  You can wear as many as you feel is appropriate — some people wear many while others only wear one.
Although today this is largely a Canadian custom, anybody of any nationality or ethnicity can participate and spread this honorable tradition for the benefit of those who have served their country.
IN FLANDERS FIELDS POEM
The World's Most Famous WAR MEMORIAL POEM
By Lieutenant Colonel John McCrae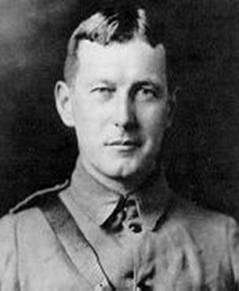 In Flanders fields the poppies blow
Between the crosses, row on row,
That mark our place: and in the sky
The larks still bravely singing fly
Scarce heard amid the guns below.
We are the dead: Short days ago,
We lived, felt dawn, saw sunset glow,
Loved and were loved: and now we lie
In Flanders fields!
Take up our quarrel with the foe
To you, from failing hands, we throw
The torch: be yours to hold it high
If ye break faith with us who die,
We shall not sleep, though poppies grow
In Flanders fields
Composed at the battlefront on May 3, 1915
during the second battle of Ypres, Belgium