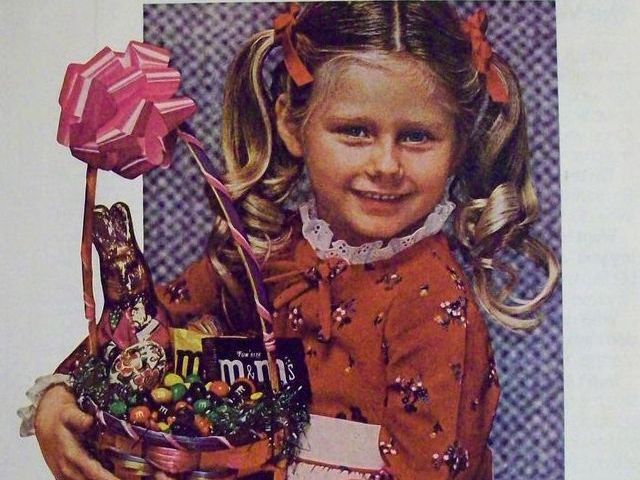 Are you tired of the same old Easter Basket sugar blitz every year?  Try this new spin on Easter Baskets.
In our family we do the whole Easter Bunny/Easter morning thing and it is a lot of fun for everyone.  We color hard boiled eggs on Saturday; when they go to sleep the Easter Bunny hides the eggs around the house and leaves them an Easter basket beside their bed.  However, my kids are still working through their Halloween candy by April and they don't really need another load of sugar delivered to their bedside.  So  I tried to come up with a way to deprive them of candy while still making it fun.
This was the idea that I came up: buy a bunch of little toys and things, put them in plastic eggs, and hide them around the house.  To identify who gets which eggs I color coordinate a certain color egg to each kid and leave in a note in their basket that says "Your Color Is Blue", etc.  I put out about 10-12 eggs per kid, but you can do more or less depending on your budget and time.  I still give them a little bit of chocolate in their Easter baskets, usually a small chocolate bunny (I'm not a monster after all!).
Related: The Importance of Holiday Traditions
Here are some ideas of things you can put in the plastic eggs for them.  Some of the eggs may need the larger sized eggs obviously.
For the younger kids: tiny stuffed animals, mini action figures (think Lego minis or Minecraft minis), silly putty, toy car, growing animal sponge capsule, Nerf darts, temporary tattoos, small bubbles, bouncy ball.
For older kids: ear buds, USB flash drive, jewelry, money,  hand sanitizer, hair bands, key chain, lip balm, shoe deodorizer balls, erasers, pencil sharpener, nail clippers, gift cards.
I hope that gives you some ideas to avoid bombarding them with more candy and giving them a fun egg hunt at the same time.  Share your thoughts and ideas in the comments section below.
Happy Easter!
Disclaimer: this article may contain affiliate links.