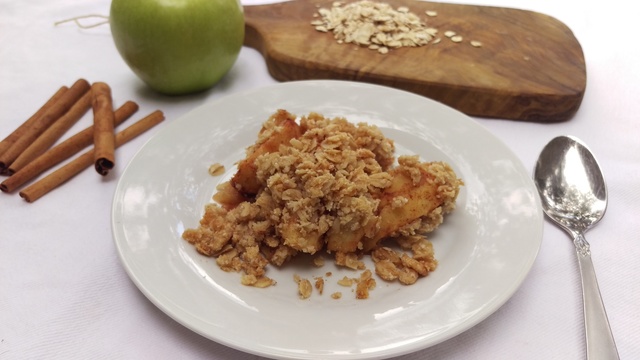 Mommy Perfect brings you a full flavor, super simple, and super low calorie desert recipe that you can enjoy guilt-free: Skinny and Simple Apple Crisp.
Like every other normal person, I love desert.  I would eat it after every meal if I could.  Unfortunately, like every other normal person, I can't.  If I did I would become enormous, develop type-2 diabetes, and die young of heart disease.  So in the interest of living a long, happy, healthy life I choose to eat sensibly and exercise often.
Rather than feel guilty about eating an occasional desert, I developed this skinny and simply apple crisp recipe.  It's a full flavor desert, with truly healthy ingredients, even my kids can't tell that its good for them.  Plus its SO easy to make — you can prepare this dish in 5 minutes (not counting bake time).
See my guide How to Use 10 Common Apple Varieties for help choosing which apples to use.   Or just use Granny Smith which are always a reliable baking apple.
Skinny and Easy Apple Crisp
Ingredients
Filling:

2 lbs baking apples (roughly 6 apples); peeled, sliced, and cored
1/4 cup granulated Splenda
2 tsp lemon juice
1 tsp ground cinnamon
Topping:

1/4 cup brown sugar
1/4 cup granulated Splenda
1 cup old fashioned rolled oats (uncooked)
1/2 cup flour
pinch of salt
1/4 cup vegetable oil*
Instructions
Preheat oven to 350 degrees.
Prepare the filling:

In a bowl combine cinnamon and Splenda.
In a seperate bowl mix sliced apples and lemon juice together to coat the apples. Sprinkle the cinnamon and Splenda mixure over top the apples and stir to thoroughly coat.
Spoon the apples into an 8X8 baking vessel. Set aside.
Prepare the topping:

In a bowl combine the dry ingredients.
Stir in the oil until the whole mixture is slightly moist and crumbly.
Spread the topping evenly over the apples.
Bake at 350 degrees for 60 minutes or until apples are tender and topping is golden brown.
Serve hot.
Notes
*Use a mild flavored heart healthy oil of your choice such as canola or olive, or whichever you prefer.
http://mommyperfect.com/2016/05/skinny-and-easy-apple-crisp/
Copyright Mommy Perfect