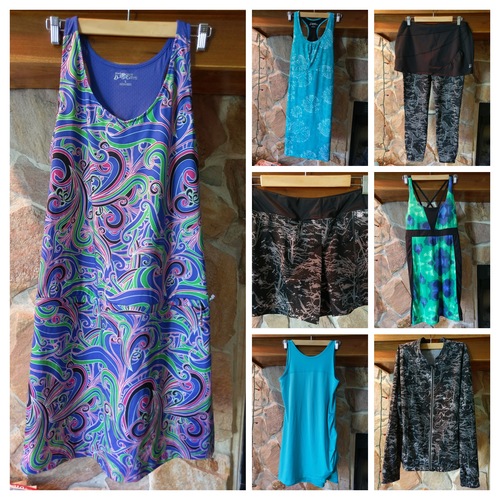 Skirt Sports.  It's more than just clothes.
A while back I decided to get back to running. In the past I had done some small triathlons and a bunch of 5k races. I took a break due to a knee injury and focused more on strength training and being lazy, I blame the loss of motivation on the injury.
I started walking again and it seemed to go fine. At that point I realized I needed something new to wear for my walks so I researched around and noticed a new trend in women's running clothes: the running skirt.  I got one and loved it so much!  I looked more into who makes it and it was a company in Colorado called Skirt Sports.
On the website I saw they have an ambassador program and an amazing community of women runners that looked like just the thing I had been longing for. So I reached out to them to apply and was told I had missed the deadline and would have to wait a year.   I didn't make much progress that year, still some but not much.  It's harder to find motivation alone and I needed somewhere to go for advice. You can read a tiny bit of my experience with the couch-to-5k program.
The next year came around and I applied again and I got accepted! Needless to say my wardrobe grew a lot in the running clothes department.  I love the skirts with shorts, they have pockets on the sides of the shorts for your phone and some have a zip pocket in the back as well. The dresses are so pretty and useful, some with a cleavage pocket for chapstick, keys, snack or whatever you like. I love that the clothes can be worn for exercise or going out. I've worn my skirts and dresses to all sorts of functions and gotten compliments on them.
Becoming part of the community really was amazing and I discovered they have a new challenge group #RealWomenMove on Facebook anyone can be a part of that is not just for ambassadors, although lots of them are part of it.  It just opened my eyes to a whole world of positive upbeat amazing women doing amazing things.  It really made me feel like I could do more and reach what I thought were practically unattainable goals. It's so inspiring to see all the women just moving and being active in all their different pursuits.
The motivation you can get from interacting with others that are out there fearlessly charging ahead is pretty incredible.  Not to mention the love and support you feel from the Skirt Sport owners and family.  It's not just a corporation trying to sell products, it's people who are truly passionate about the sports they do and want to share it with everyone.  It's quite contagious and has given me the confidence to go farther and get faster than I thought I could and to reach out to local running groups with more confidence and actually be able to keep up and feel like I belong.
I know this journey of discovery may seem silly to some of you but for a shy person like me who has never been a great runner it has done wonders.
**I am now a brand ambassador for Skirt Sports. I am not paid to mention them in my blog or to wear their merchandise. I just want to share the love!