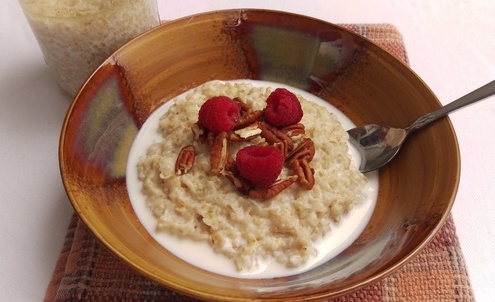 This is hands-down the best way to make oatmeal.  Steel-cut oats have a hearty and rustic texture, but the traditional stove-top method takes a lot of time, which most people don't have first thing in the morning.  This method that I've developed is so simple, and makes the oats so thick and creamy — it tastes like custard while retaining that "snap" from the oat berries.
We use a Crock Pot and mason jars to create a "double boiler".  We fill the Crock Pot with water to just at (or below) the level of the milk in the mason jars.  By slowly cooking the oats inside the mason jars we prevent them from getting overcooked and crusty at the edge/bottom of the cooking vessel.  Fix it before going to bed; its ready in the morning.  Prep time is under a minute.
We substitute water for milk in the recipe which adds a ton of creaminess.  Skim milk if you're watching your fat/calories; milk alternatives if you avoid dairy, or water if desired.  Many milk alternatives have added sweeteners, so keep that in mind.  This is also gluten-free, if that's a concern for you.
In this recipe we use pint mason jars.  If using different sized jars, reference the table below (half-pint is the right amount for my kids' appetites).  Cooking times stay the same, 6-8 hours on low.  You could even make just one serving in a single jar if you wished.  We recommend using Kerr or Ball brand jars, as these are tested to be heat tolerant; generic brands may be less so.
Slowcooker Steel-Cut Oatmeal Custard
Ingredients
4 - 1 pint mason jars
1 cup milk per jar (4 cups total)
1/4 cup steel cut oats per jar (1 cup total)
pinch of salt in each jar
Optional: sweetener of your choice
Instructions
Pour 1 cup milk into each jar.
Add 1/4 cup steel-cut oats to each jar.
Add a pinch of salt to each jar.
Stir slightly.
Place the mason jars into your Crock Pot. Do not put the lid on the jars -- let them breathe.
Place golf ball sized aluminum foil balls in between each jar and the Crock Pot edge (to prevent bumping and shifting).
Fill the Crock Pot with water to just at or below the level of the milk in the jars. If you fill beyond that point the jars will become buoyant and float.
Put the lid on the Crock Pot and set to low for 6-8 hours.
Remove jars using tongs.
Notes
Serve with brown sugar or maple syrup, cream, pecans or fresh fruit.
Important: Only use regular steel-cut oats for this recipe; not quick steel-cut oats, not instant oats, not rolled oats.
http://mommyperfect.com/2016/01/slowcooker-steel-cut-oatmeal-custard/
Copyright Mommy Perfect
Reference: Oats to Liquid Ratios
| | |
| --- | --- |
| 1/2 cup liquid (4 oz) | 2 Tblsp oats |
| 3/4 cup liquid (6 oz) | 3 Tblsp oats |
| 1 cup liquid (8 oz) | 1/4 cup (4 Tblsp oats) |
Feel free to experiment with slightly more or less liquid if you prefer it thicker or wetter.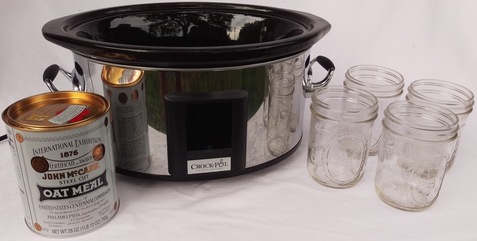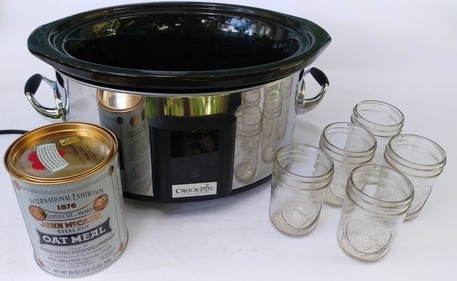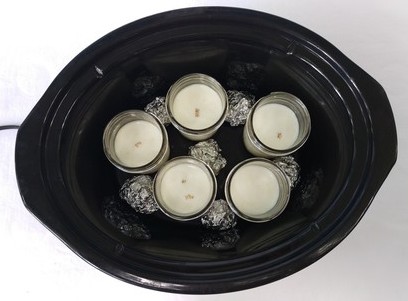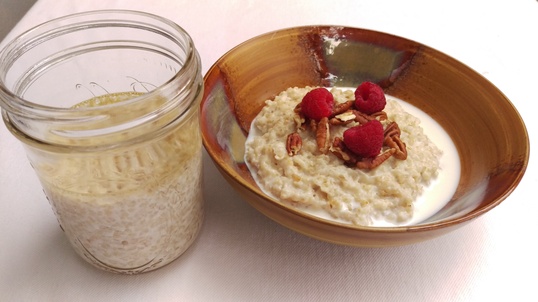 Disclaimer: this article may contain affiliate links.