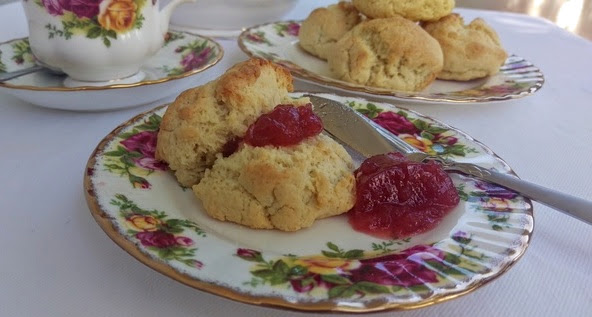 By Grandma Fraser
My grand-mum, and all my relatives going back hundreds of years, are from a small town in the Scottish Highlands where tea and scones are as serious a matter of national pride as their whiskey (in American we call it "Scotch", but to them its simply "whiskey").
If you're unfamiliar with what scones are, its most similar to a bisquit, but more buttery and sweeter.  Even the pronunciation of the word "scone" is as serious as a heart attack.  Even though there's an "e" at the end, its said with a short "o"; rhymes with gone.  If you're in Scotland and say it with a long "o", as most Americans do, expect to be reprimanded.  Incidentally, how to pronounce scone does vary by country.
This is my grand-mum's family recipe for authentic Scottish scones, which she got from her mum, and so on.  I've lost count of how many scone recipes I've tested over the years.  I usually order a scone from every tea/coffee shop I visit, and I've yet to have tasted a better scone than these.  If you feel like indulging yourself, or if you're hosting some guests, these are a guaranteed favorite.
Grandma's Authentic Scottish Drop Scones
Ingredients
5 oz flour by weight (or 1 cup by volume)
2 teaspoons baking powder
2 oz salted butter (half a stick)
2 tablespoons sugar
pinch of salt
1 beaten egg
(optional) 1/2 cup dried or fresh fruit if desired
Instructions
Preheat oven to 450 F degrees along with your terra cotta pottery dish.
Shred or dice the butter into small cubes. Add dry ingredients.
With a wooden spoon (or a stand mixer with paddle attachment), mix to combine.
Add egg and optional fruit**, mix until dough is stiff.
Drop roughly 1/3 cup spoonfuls onto a preheated greased terra cotta pottery dish (or cookie sheet with parchment paper). Should make 5 scones.
Sprinkle a pinch of sugar over each scone.
Place in oven at center rack position.
Cook for 10 to 15 minutes*, until the tops brown.
Remove immediately from the cooking vessel and rest scones on a cooling rack for a few minutes before serving.
Notes
Serve with marmalade or strawberry jam, or make up some freshly whipped cream.  They're best served warm with tea.
*Adjust the time based on your oven.
**Fresh or dried fruit can be added if desired. Example: dried currants, dried or fresh cranberries, dried or fresh blueberries, diced apples, diced strawberries, raspberries, chocolate chips -- be creative!
http://mommyperfect.com/2016/01/grandmas-authentic-scottish-scones/
Copyright Mommy Perfect